Fast & Effective French Language Software – For Business Use
Learn to Speak™ French, Business Edition, is your enterprise language-learning solution. Whether you are managing a small business or large corporation, or in charge of a classroom or an entire school district, Learn to Speak provides the tools you need to deploy extensive language learning tools to a broad base of users.
The Business version contains all the same lessons, videos, games, and workshops as our Deluxe package. Additionally, you will receive an extra Conjugation Workshop available only to Business Customers. Our lessons are guaranteed to get your organization speaking French quickly and effectively.
If you have language-learning needs that are specific to your industry or curriculum, the Learn to Speak™ product is designed to easily import new lesson content with the help of one of our content integrators.
Proven Techniques to Learn French
The Learn to Speak™ French software was designed by language experts, who combined language-learning theories with proven classroom practices to develop an ultimate learning environment for any kind of user. The result is a rapid language-learning approach that is used by millions of people around the world.
The learning technique, called Flexible Immersion System, is exclusive to eLanguage's Learn to Speak™ software, and lets the users choose the learning path that matches the their individual learning style. Also, instead of simply memorizing words, users will get the grammar and vocabulary skills they need to quickly and easily be able to speak French.
Real-World Context to Help You Learn a Language Quicker
The absolute best way to learn a new language is by visiting the country where it is spoken. Learn to Speak™ French's learning method uses this fact by placing the users into real-world scenarios to make language immersion truly work. Using interactive videos and speech recognition tools, users will be able to interact with native French speakers.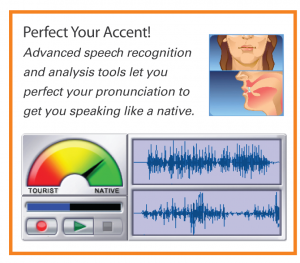 Real-World Scenarios include:
Taking a taxi
Checking into a hotel
Asking for directions
Speaking with a doctor
Ordering a meal
Social events
…and much more
The users can move easily from learning useful words and phrases to exploring scenario-based conversations, and then polish their new skills with advanced speech recognition and analysis tools.
Easy to Use
Learn to Speak™ French lets you spend your time learning the language, NOT the software. The users can let the program lead them through the lessons step-by-step or simply choose the lessons and topics that are of particular interest. The easy-to-use interface will get users started right away.