Learn German Quickly and Easily
Learn to Speak is your complete language learning solution. This comprehensive program provides the tools you need to learn German at home, school, at the office or on the go. You will learn to speak, listen, read and write in German with fluency and confidence. Learning German has never been easier.

Learn from Native Speakers
Lessons are based on real-world content to help you learn to speak like a native. Use interactive videos to practice your conversation skills with on-screen native German speakers. Use and speech recognition tools to fine-tune your pronunciation to get you sounding like a native in no time.
Complete
Learn to Speak German Deluxe offers over 40 lessons based on real-life situations. These carefully designed lessons build the foundation for asking questions, carrying on conversation, understanding cultural norms, and applying proper grammar usage no matter what the subject matter. To help reinforce your new language, you will also have access to the deluxe workbook with printable exercises and a .MP3 audio course for learning on the go.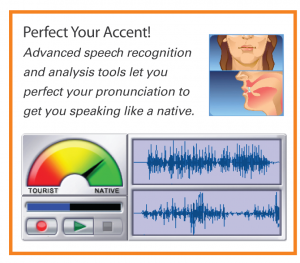 Real-World Scenarios include:
Greetings and farewells
Checking into a hotel
Asking for directions
Making an appointment
Ordering a meal
Getting information
Shopping
…and much more
Easy to Use
Learn to Speak German lets you spend your time learning the language, not the software.  Let the program lead you through the lessons step-by-step or simply choose the lessons and topics that are of interest to you. The easy-to-use interface will get you started right away.
Learn to Speak is an award-winning, best-selling software used in the State Department, embassies, universities, and Fortune 500 companies.  It's no wonder more than 4 million people have chosen Learn to Speak.